Steinbach am Glan

topographic map

Click on the map to display elevation.
About this map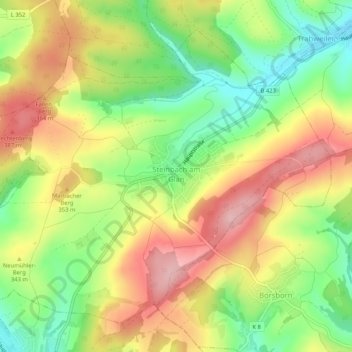 Minimum elevation: 235 m
Maximum elevation: 412 m
The municipality lies about 35 km west of Kaiserslautern on both sides of the Steinbach, which rises in the village's west end and then flows about one kilometre down to the Hodenbach, where the two streams together become the Henschbach. The constituent community of Steinbach lies on the brook's right bank and the constituent community of Frutzweiler on the left. Steinbach therefore does not lie right on the Glan, which makes its name suffix "am Glan" a bit misleading. It actually lies some 7 km upstream from where the local river empties into the Glan. The name suffix simply serves to distinguish Steinbach am Glan from other places named Steinbach. From the bottom of the dale at roughly 260 m above sea level, the land rises steeply on the right bank up to the Schnepfenrech (417 m) and the Steinberg (406 m), while over on the left side, an elevation of 367 m above sea level is reached. Other peaks are the Marbacher Berg with its sporting ground (353 m) and the Neumühler Berg (343 m). Once lying within municipal limits were two coal pits, Steinbach and Maria. Much of the Hodenbachtal (Hodenbach valley), laid out as a recreational area, lies within Steinbach's municipal limits. The municipal area measures 686 ha, of which 123 ha is wooded.